Want to see all the Messier Objects in one night? Read Ken Anderson's Messier Marathon Presentation to know which Messier Objects to observe first, second...from sunset to sunrise.
. . . See CURRENT ATTRACTIONS on Left for Beginners' Nights, other locations, and Club Events
PRIME OBSERVING NIGHTS ARE
between last quarter and first quarter moon, Fridays and Saturdays

WITHIN the ISLAND LAKE STATE RECREATION AREA,

AT THE SPRING MILL POND PICNIC AREA PARKING LOT

Visitors must be with a member after 10:00pm
We continue our hosting of the very popular
Beginner's Nights
with our unique
approach targeted to beginners at all levels. Click the link for the schedule
at Island Lake Recreation Area and LEMP (Lake Erie Metro Park).
Before you go . . .
Please read our
VERY IMPORTANT
STAR PARY ETIQUETTE
info sheet which was specially prepared for you.
See What's Up . . .
Tonight In The Sky
What's up in Space - Space Weather
(Includes recent Solar surface photo, Aurora Alerts, and more)
See Who's Going. . .
Check our Y!Group site
And . . . Check the Weather:
Sky Weather:
Midwest USA
North America
North Polar IR
U.S. Severe Weather Map (includes high wind advisories)
Island Lake (at Spring Mill Pond) - Clear Sky Chart
Lake Erie Metro Park (LEMP) - Clear Sky Chart
FAAC Observing Site - Clear Sky Chart
Hector J Robinson Observatory (LP Schools)- Clear Sky Chart
Lake Hudson (Dark-sky preserve) - Clear Sky Chart
UM-Dearborn Observatory - Clear Sky Chart
Thrush Observatory Weather -- (FAAC Member's PWS)
---
Map to Spring Mill Pond within
Island Lake Rec Area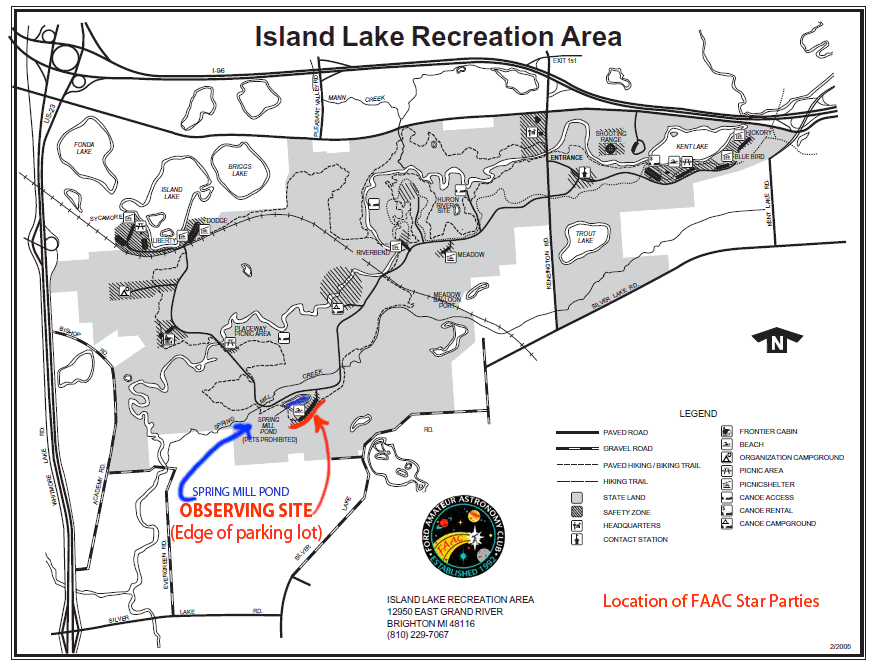 Home
Previous Page

Club Information
Observing Sessions
Newsletter

Current Attractions
What's New
FAQ

HJRO Observatory Project

Astro Photo Albums

GOING TO MARS!

Other Links
Web Site Updated:
June 21, 2015 12:45
Webmaster: Greg Ozimek
With thanks to Doug Bock